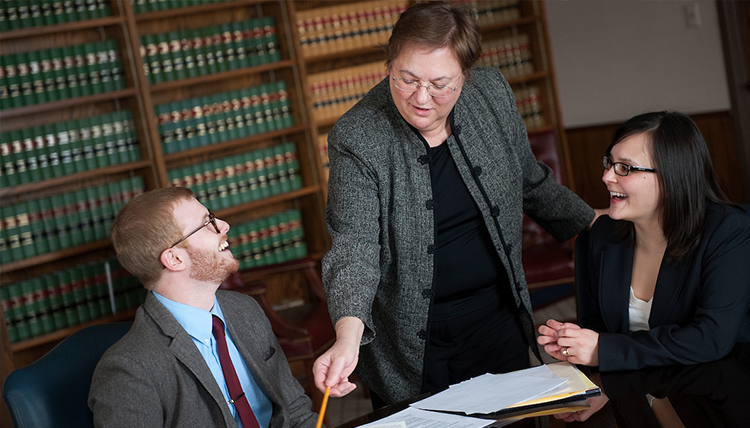 An externship is a learning experience that takes place outside the classroom where you will earn credit while being immersed in a substantial lawyering experience. Students are paired with a site-supervisor who guides their substantive work in the field and a faculty supervisor who guides the student's reflection on their field experience.
Mission of the Gonzaga Law Externship Program
The Externship Program provides students with opportunities for professional development, to obtain practical lawyering skills, to create or expand professional networks, and to assess and gain insight to the workings of the legal system.
The Basics of an Externship
Students may enroll during any semester after the successful completion of 30 credits.
Students are eligible to earn 3 – 15 credits (please see the credit breakdown to determine the amount of hours required per credit).
Externship credits are graded on a pass/fail basis with the exception of the required, one-credit, concurrent seminar for which students are given a letter grade.
Placements are typically for one semester only (please see addendum to determine the qualifications to request an additional semester with your placement).
Student may only participate in the Externship Program for two semesters. The limitation ensures all students have an opportunity to participate in the program.
Students work in a wide variety of legal offices, government agencies, non-profit organizations, and judge's chambers. In spring of 2018, we commenced a pilot program to expand and include local, for-profit law placements.
Applications are accepted on a rolling basis.
Examples of just some of our Local Externship Placements:
Center for Justice
Federal Defenders of Eastern Washington & Idaho
Gonzaga University General Counsel's Office
Kalispel Tribe Legal Offices
Kootenai County District Court
Kootenai County Prosecuting Attorney
Northwest Justice Project
Office of Administrative Hearings
City of Spokane
Spokane County Municipal Court
Spokane County Prosecutor's Office
Spokane County Public Defender's Office
Spokane County Superior Court
Team Child
Unemployment Law Project
U.S. Attorney's Office – District of Idaho
U.S. Attorney's Office – Eastern District of Washington
U.S. Bankruptcy Court of Eastern Washington
U.S. District Court, Eastern District of Washington
United Food and Commercial Workers Local #1439
Washington State Attorney General's Office
Washington State Court of Appeals, Division 3