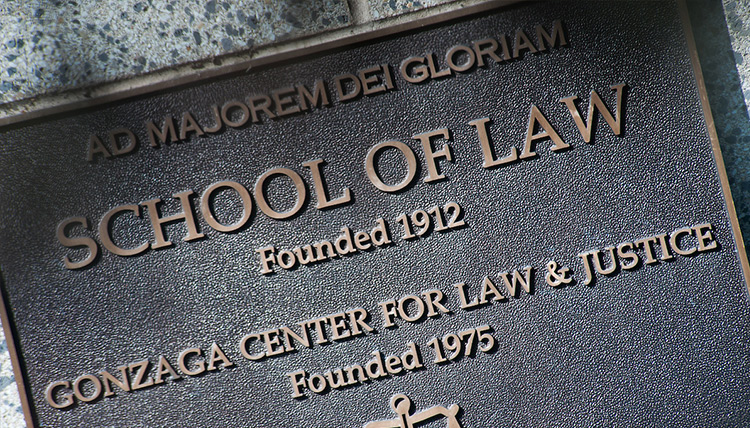 Special Notices In Light Of the Current COVID-19 Situation
In compliance with the "Stay Home, Stay Healthy" order by Washington Governor Jay Inslee, the staff of the Law School Registrar's Office are working from home.
Please send requests to the Law School Registrar's Office via email, or by leaving a voicemail (contact info below).
Certifications and Verifications that require original signatures or the Law School Seal will not be able to be processed during the "Stay Home, Stay Healthy" order. Our office will complete these requests as soon as we are able to return to the office, and will notify requestors when they have been completed. Any items that can be completed electronically will processed within two business days of the request.
Transcripts: As always, electronic unofficial transcripts can be ordered from this page and delivered via email. Official transcripts will be delayed, and may take up to two weeks to be processed.
The Registrar's Office is on the second floor of the Law School building, and provides registration services, enrollment verifications, degree audits, and class schedules.
The Registrar's office also handles final examinations (this includes providing special accommodations to learning disabled students), maintain a system of blind grading, oversee the entry of all final grades and are the official custodian of all student academic records.
The Registrar prepares certifications (character and fitness, transcripts, etc.) for the state bar in all states.
The Registrar's office also places first-year students into their respective first-year courses. We aid in providing faculty, staff and administration with data for reports and planning, such as the preparation of the annual ABA questionnaires and statistics regarding graduate performance on the bar examinations.
Zagweb is Gonzaga University's self-service web information system. Current students, new and prospective students, employees, and alumni can receive access to Zagweb. Access for students includes course registration, grade reporting, course evaluation, financial aid, and student accounts information.
Get more information about the Gonzaga Law Curriculum
The Academic Calendar may be found with the Academic Information.
Your Privacy
The Gonzaga University School of Law Registrar's Office is responsible for maintaining the integrity and privacy of our law students' academic information. Records are maintained in compliance with the Family Educational Rights and Privacy Act of 1974 (FERPA).
For more information regarding students' rights under FERPA, please see the University's Privacy Policy.
Students' paper files are maintained for five years after graduation or last date of attendance, after which they are destroyed. Records of students enrolled at Gonzaga University School of Law are maintained by Registrar.
Contact
Ms. Robbie McMillian
Law School Registrar
(509) 313-3731
Waunita Myers
Law School Program Assistant
(509) 313-3733