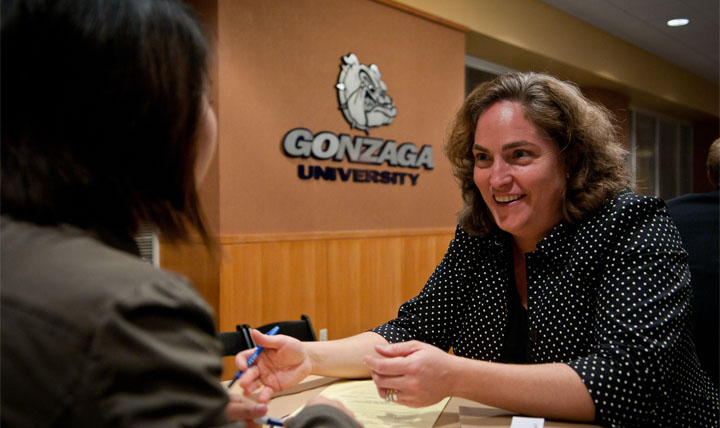 Services, Workshops, Events:
Individual Student Appointments
Use ZagsIgnite to schedule an appointment with one of our career professionals to discuss your specific career questions. Topics covered in an appointment can include choosing a major or career, general professional development topics, applying for jobs or internships, interview preparation, graduate school applications, job offer evaluation/negotiation, and more. At this time, CPD has availability to meet with students via telephone, email, or virtually with Zoom.
Student Business Cards
Contact our office to order custom-made Gonzaga University business cards with your name, major, graduation year, and contact information ($5 for box of 100 quantity).
On-Campus Recruiting & Info Sessions
Meet with representatives from national and regional corporations, non-profit organizations, government agencies, and school districts when they visit campus to provide information, interview and recruit students.

Internship Program
Learn how to prepare yourself, as well as how to find and develop internship opportunities related to your career goals with our Internship Program. Attending an Internship 101 workshop is the first step in the internship search process.

Career Fairs
Network with local, regional, and national employers at several Career Fairs throughout the year.

GAMP Mentors
Gonzaga Alumni Mentor Program (GAMP) offers students the opportunity to connect with alumni who are working in their field of interest.

Treks
Students have the opportunity to meet employers, tour facilities, and network with alumni in various cities throughout the year.

Personal Career Assessment Tools
Career assessments are useful to learn about specific careers connected to your natural talents and interests.The first step for taking an assessment is to meet with a career coach in Career & Professional Development. Please log into ZagsIgnite or call CPD at (509) 313-4234 in order to schedule a 30-minute appointment with the type "Career/Major Exploration and Assessments." During this appointment we will evaluate which assessments will be most beneficial for you and give you the information for taking these assessments. Once you have met with a career coach and received your assessment information, you will compete the assessment(s) on your own, and return for an hour-long follow-up appointment.

Professional Representatives (ProReps)
Receive mentoring from the student-run group who provides career support to their peers through walk-in appointments, classroom visits, career-related programs, and campus-wide outreach.

Career Labs
On the first Wednesday of each month our ProRep student leaders host an event on a different career related topic.

Etiquette Dinner
Savor a four-course meal and learn the proper etiquette for dining with an employer. The dinner is offered once per semester, please view calendar of events for current semester offerings.

Jesuit University Reciprocity
Contact our office and we will submit a formal request on your behalf to other Jesuit universities' career centers asking them to serve you while you prepare to reside in their geographical area.