Gonzaga's Financial Aid Office utilizes ZagWeb for students to view and manage their financial aid award. Students will be notified via their Gonzaga email address of all award revisions and will be prompted to log into ZagWeb to review and accept or decline their award.
View Your Award
To view your award on ZagWeb l
Step 1: log into: zagweb.gonzaga.edu
Step 2: Click on the "Financial Aid" tab
Step 3: Click on the "Award" tile
Step 4: Click on "Award by Aid Year" option this will open the Award Overview. The page will open with five tabs: General Information, Award Overview, Resources/Additional Information, Terms and Conditions, and Accept Award Offer
Step 5: click on the "Award Overview" tab to view your award.
Step 6: Review each award offered and Accept or Decline the award(s) by selecting your decision in the "Accept Award" tab. Please be sure to scroll to the bottom of the award page and click on the "Submit Decision" button.
Step 7: After you review your award, complete the financial aid checklist.
Navigate Your Award on ZagWeb
While the award may look slightly different, below is an example of where to find the following information within ZagWeb:
Accept Award Offer: This is the tab you click on to accept or decline your financial aid award.
Award Type: This indicates the aid program that you have been awarded. Please refer to the "Types of Aid" Section of our website for terms and conditions.
Award Status: This shows if you have Accepted or Declined the award. If you have not submitted your decision to our office, it will still be in an Offered status.
Unsatisfied Disbursement Requirements: This provides you with a list of items you need to complete to finalize your financial aid award. It is important that you respond immediately to requests for this information.
Resources/Additional Information: This screen allows you to report any outside scholarships that you will be receiving this year.
Award Overview: This screen provides you with information about your financial aid calculation. It shows our Cost of Attendance. Please note that this is not your cost to attend Gonzaga. The Student Accounts Office will provide you with a billing statement that reflects your actual costs. You can estimate your costs by using the Out of Pocket Cost Worksheet.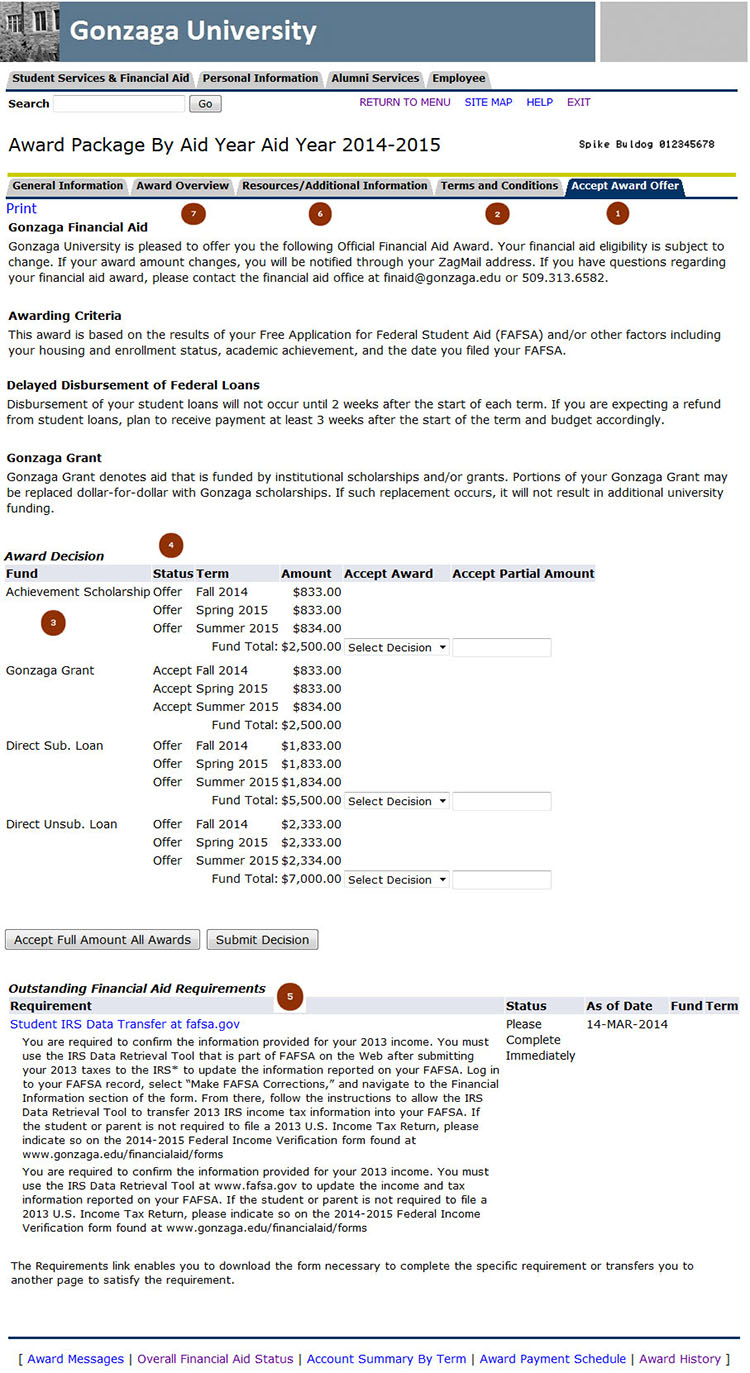 Copyright © Ellucian 2008-2012. This document is proprietary and confidential information of one or more of the Ellucian companies and is not to be copied, reproduced, lent, displayed used or distributed except under license from Ellucian. Third party copy centers are advised that clients of Ellucian that have licensed the underlying technology associated with this documentation have a valid license to copy and use this documentation in accordance with that underlying license.