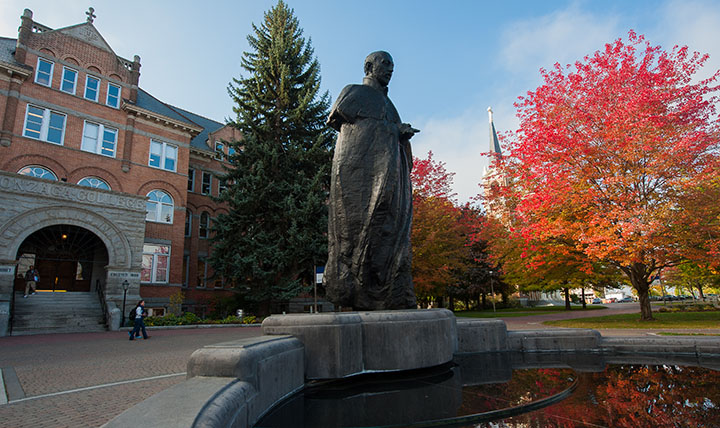 Gonzaga President Thayne M. McCulloh announced the formation of the Commission on Gonzaga's Response to the Catholic Sexual Abuse Crisis in April 2019.
The purpose of the Commission is to identify, discuss and make recommendations regarding a set of formal actions the University should undertake in response to the clergy abuse crisis in the Catholic Church, and in light of the reality of priests with credible allegations of abuse who had ties to Gonzaga – including those who once lived at Cardinal Bea House.
The creation of the Commission is grounded in the following expressions of our identity as a Catholic, Jesuit and humanistic university:
Commitment to the human dignity of every member of our community
Commitment to zero tolerance for sexual misconduct
Commitment to equal access to education, and solidarity with victims of abuse and neglect
Commitment to engaging these issues as a learning community
"The Commission formation is part of ongoing institutional commitments, especially as a community of learning and scholarship, to engage courageously in difficult conversations about what systematic abuse within the Church compels us to learn, to know, and to do," Dr. McCulloh said.
The Commission will engage with the greater Gonzaga community to discover how best to stand in solidarity with victim-survivors of abuse; how to heal and repair the harm inflicted by abuse; and how to address systemic institutional and social failures.
"In so doing we hope to deepen and strengthen our understanding of how a university that strongly identifies itself as Jesuit and Catholic proceeds through this complex space," said President McCulloh.
The Commission is co-chaired by Dr. Michelle Wheatley, Acting Vice-President for Mission and Ministry, and Dr. Megan McCabe, Assistant Professor of Religious Studies. It also includes 10 additional members of the Gonzaga community.
The Commission began meeting over the summer of 2019 and is expected to make its recommendations to President McCulloh by the end of the calendar year.
Read the latest update from the co-chairs of the Commission.
Gonzaga embraces a commitment to respect, protect and care for every individual. As such, the safety of our students, staff and visitors to our campus is a top priority, and the University has no tolerance for sexual misconduct of any form. Please visit www.gonzaga.edu/report for both University and external resources (including the U.S. Jesuits West Province) to support confidential and non-confidential reporting, medical care, victims, advocacy, and counseling services.