Welcome to Health and Counseling Services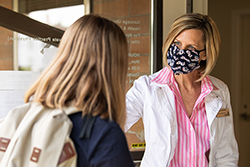 Gonzaga University Health and Counseling Services is here to support your physical and mental healthcare needs right on campus. Our expert staff are focused on the wellbeing of students and provide quality care just steps away from your residence hall or classroom.
Health and Counseling Services delivers your physical healthcare in a clinic setting. Providers, nurses, and other healthcare staff help diagnose and treat illnesses and injuries. Our psychiatric and mental health providers afford services that are accessible for everyday concerns and crises impacting the student experience.
We strive to offer holistic, comprehensive healthcare in partnership with you. We keep you moving toward your educational goals and maintain our focus on the wellbeing of the whole person.
COVID-19 Vaccine Requirement for Students
Gonzaga University requires all campus-based undergraduate, graduate, and law students to submit proof of full COVID-19 vaccination to participate in in-person, campus-based programs and activities, including eligibility to study abroad, beginning Fall Semester 2021. For more information, read the full announcement or visit our Vaccine Requirement FAQs.
Please click on the COVID-19 Student Vaccination Portal button to get started.