College Immersion Program: Catalyst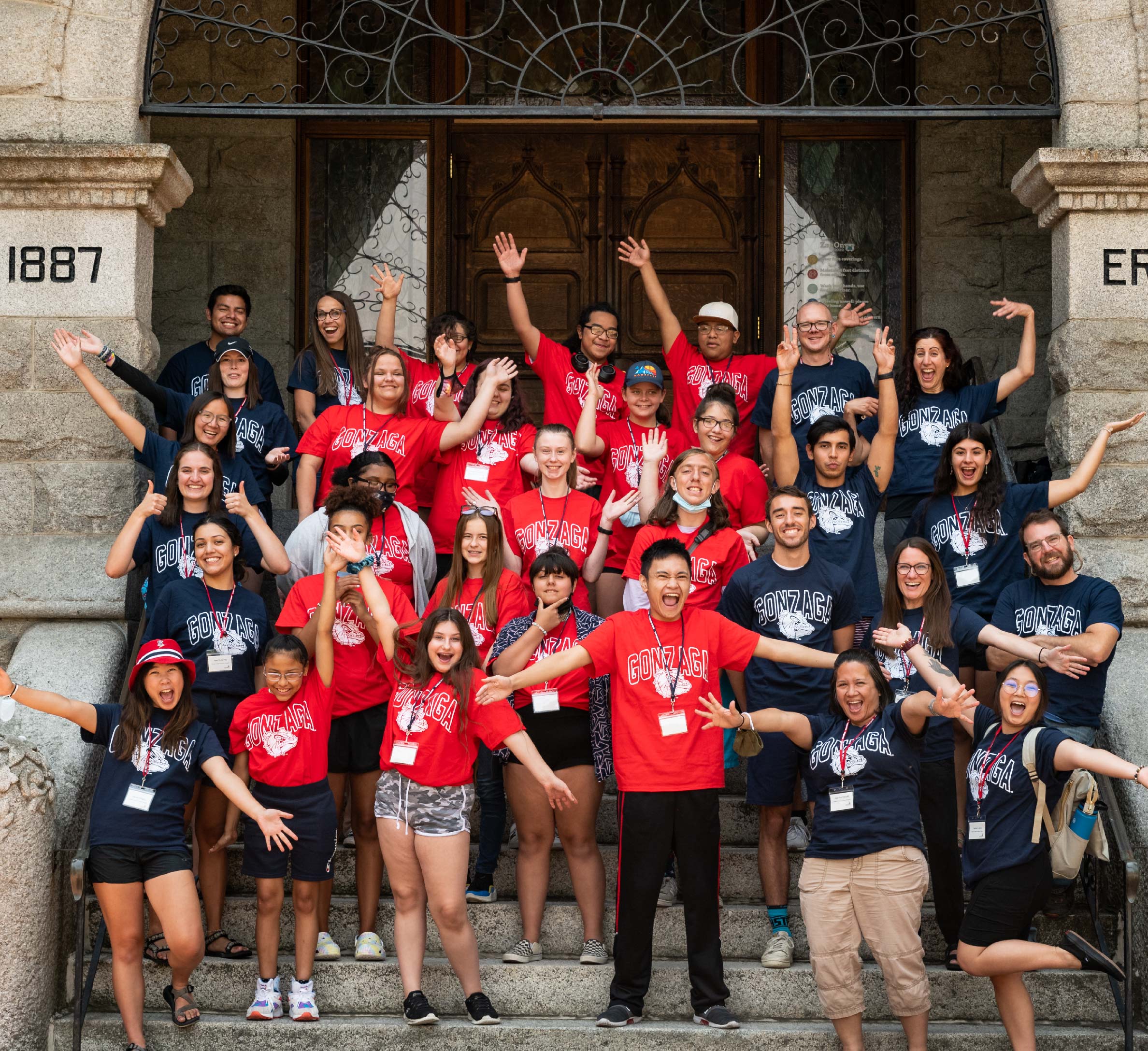 ---
Developing a college immersion program that introduces young people to college life, and supports educational access, outcomes, and opportunities for area high school students is one of the Opportunity Northeast strategic priorities. With the support and feedback of school partners, several Gonzaga staff and faculty set out to launch the first ever Catalyst college immersion program in July 2021.
The word Catalyst has a couple of different meanings. The more common definition is "a substance that increases the rate of a chemical reaction without itself undergoing any permanent chemical change." For example, chlorine acts as a catalyst promoting the breakdown of ozone. A second definition is "a person or thing that precipitates an event," such as "the student's speech acted as a catalyst for social change". Both definitions are apropos for this college immersion program. With regards to the first definition, the hope is that student participants remain fundamentally loyal and authentic to who they are throughout their becoming story. For the second definition, the intention is that the Catalyst program becomes the thing that precipitates many future possibilities, whoever the students choose to become. In truth, however, and in keeping with the spirit of Jesuit education to "Go and set the world on fire!", the real catalyst are the students themselves.
Sixteen rising 9th and 10th grade John R. Rogers High School students applied to participate in the program. As part of the intake process, applicants were asked to share which part of their identity is most important to them, and why. During the three-day program, youth engaged in a personal narrative course, taught by Gonzaga professors Juliane Mora and Jeff Dodd, exploring themes including identity, becoming, and overcoming.
Additionally, youth toured campus, participated in a dance movement class, shared meals together, and learned about the admission and financial aid processes, all with the intention of providing a well-rounded snapshot of college life. They built relationships with nine Gonzaga student Summer Fellows who facilitated small group discussions and reflections throughout the three days.
A major highlight was rafting down the Spokane River, guided by Gonzaga Outdoors staff and students. This shared experience allowed for trust building, stepping out of comfort zones, outdoor education, and a whole lot of fun! What started as a shy and nervous group of strangers, became a playful and lively group of friends. Finally, the event concluded with a family dinner at John R. Rogers High School where two Catalyst participants shared their personal stories of who they want to become and their plans to achieve their goals for the future.
When reflecting on their Catalyst experience, one youth wrote, "I learned more about financial aid. I am more convinced that college is for me and is a good idea. I am considering Gonzaga as a possible college choice because of this College Immersion Program." Another shared, "I learned that scholarships are very important and participating in after school activities in high school will look good on college applications."
A special thanks to (in no particular order):
Joan Iva Fawcett, Diversity, Inclusion, Community, and Equity
Bailley Wootton and Brandi Praytor-Marsters, CCE
Dave Gilbert and Matt Edenfield, Gonzaga Outdoors
Sodexo
GUEST
CCE Summer Fellows
Jeff Dodd, English
Juliane Mora, Communication Studies
John R. Rogers High School Administration and Counselors
Carie Weeks, Office of Admission
Sarah Everitt, Financial Aid Office