8 Kennel Club Facts Everyone Should Know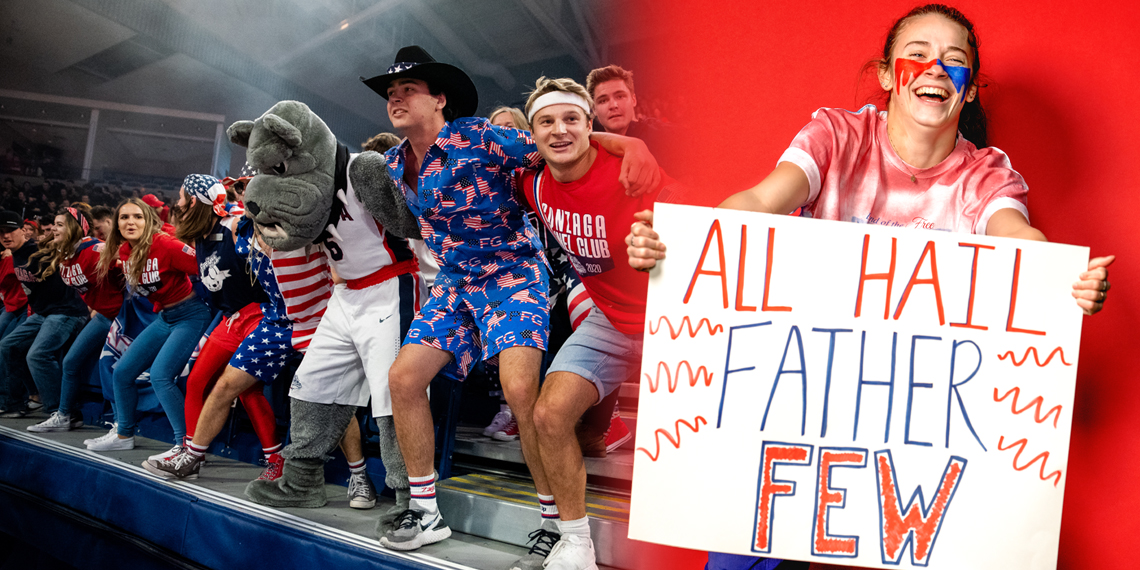 1. What it is
The place for a student to be during basketball games: aka, the student section. It's notoriously loud and active - 1,200 Zags pumped up to rally their Bulldogs (and rattle the opponents) at games in McCarthey. With 1,800 members, it's the largest club on campus.
2. What it's known for
Stomping - lots of bleacher-shaking stomping. "The Hum," "Zombie Nation," and AC/DC's "Thunderstruck" are the Kennel's traditional hype soundtracks tied with coordinated chanting, clapping and jumping. Being in the Kennel is quite a workout, even for those not on the court.
3. Generous with Support
Besides cheering for the players, students also chant for Coach Few, free taco coupons (the audience's prize for at least 10 3-pointers made), and, in high-scoring games, they'll shout the names of the last players on the bench in hopes they'll get court time.
4. Most Popular Costumes
Festive costumes dot the otherwise sea of red in the Kennel, and "Where's Waldo" makes an appearance at nearly every game. Keep an eye out for a gigantic banana, creative face-paint, spirited suits and lots of American flag pants.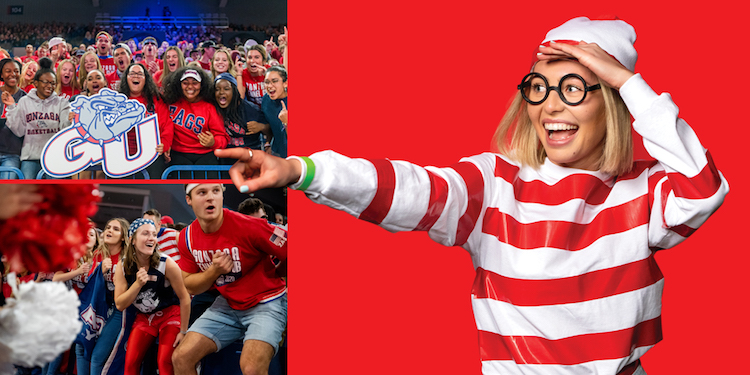 5. To get a spot for tickets, turn to Twitter
You thought Wal-Mart and Best Buy were crazy on Black Friday? You need to see students at 12:15 p.m. on Wednesdays when "The Tweet" goes out to tell ticket hopefuls where on campus to go to receive their tent number, which determines their reserved place in line for the upcoming game. The first student to arrive to the tweet location claims tent No. 1 for their tenting group and gets first dibs on courtside seats at game time.
6. Tent City = Happy Campers
Between 100 and 150 tents fill either Foley lawn or Herak quad for the 24 hours preceding popular games (Saint Mary's, BYU, for example). Each tenting group can have up to six students, and a minimum of one person from each tent group must be in the tent at all times, or else they'll have to line up later with non-tenting students. Tent City began in 2006, full of spirited students, lively music and game-day energy.
7. 35 Years Strong
Kennel Club started in 1984, thanks to a great idea from Mike Shields ('84), his roommates and a handful of baseball players and their friends. The club has had many great leaders, and the 2019-20 KC president is no exception. Matt Cranston ('20) shares: "My favorite part is seeing the Gonzaga spirit rally around athletics, regardless of the sport. Whether men's basketball or women's volleyball, the student section always has the opportunity to sway the game in the favor of our student athletes. This experience helped me to find my place in the Gonzaga community while helping others find their place as well."
8. We do more than Cheers
Kennel Cares is a branch of the Kennel Club dedicated to the Jesuit mission through serving others, with members involved with programs on and off campus. Recently, Kennel Cares assisted GU alum Rick Clark ('19) in gathering donations and filling backpacks to support Spokane community members experiencing homelessness. Facing declining student attendance at some games the past couple of seasons, Kennel Club leadership is asking members why. Early responses show increasing amounts of homework, night classes and midweek 8 p.m. tipoff times as consistent hurdles to students' attendance. Working with the Athletics department, the Kennel Club is striving to create innovative ways to better assure the Zag spirit continues to thrive in the place it belongs - the Kennel.
Student Life
Service & Community Impact
Alumni
Alumni
Undergraduate Admissions
Gonzaga Magazine