The Arts Issue - Local Inspiration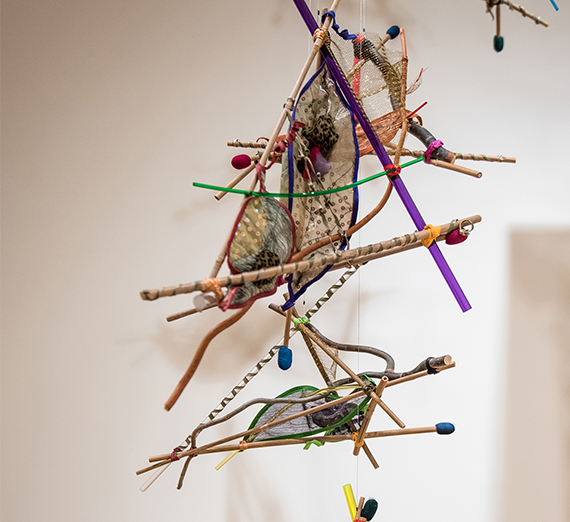 ---
"creativity. innovation. imagination."
It's a fitting catchphrase of a rising Spokane arts nonprofit entity. They are also qualities Gonzaga alumna Brooke Matson ('05, 08) embodies personally.
By Jeff Bunch, photo Zack Berlat ('11)
Brooke Matson ('05, '08)
role: Chief Creative Engineer, Obsessive Bookmaker
keys to inspiration: Mary Oliver's poetry, wandering in nature, kayaking
spokane fave: Ruins, Pie & Whiskey at GetLit! and the falls in springtime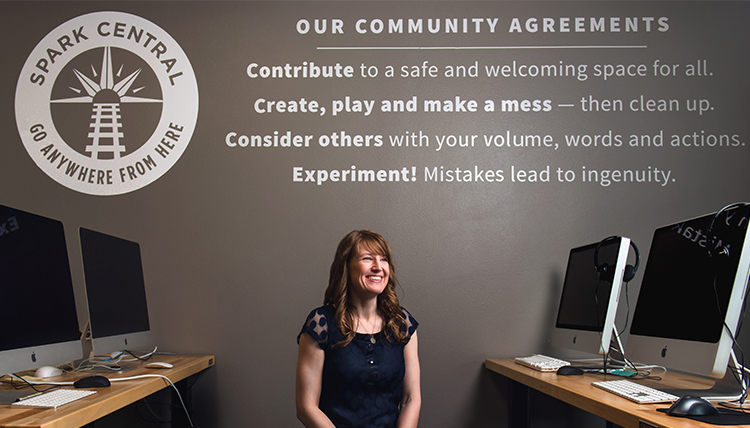 Matson, a poet and former Spokane Arts Award winner, is executive director at Spark Central, a whimsical center of inspiring serendipity located in the heart of Spokane's booming Kendall Yards
neighborhood. Both Matson and Spark Central are hard to define with a label or put in a box, which is why both are successful.
Matson doesn't care about titles or professional glory. Her measures of success are the kid who shines after being given a voice or a neighborhood being reinvigorated. She was that kid, and from a
community not unlike West Central Spokane – a first-generation college graduate who had to rely on financial aid, jobs, loans and sacrifice by her parents to attend Gonzaga.
At GU, the Jesuit ideal of being a person for others resonated with Matson, who became part of the first group of Zags who volunteered in Zambia. As editor of a literary journal, she satisfied her lifelong passion for publishing. She parlayed her talents and work ethic to earn a teaching degree focused on English and set out on a conventional path in the field that lasted only a year.
"I decided I really wasn't happy in the traditional school system and I wanted to look at alternative education and more creative education programs," said Matson, who turned down a coveted full-time teaching job and returned to her alma mater, achieving a Master's of Educational Administration in 2008. It was a perfect fit, and set up a pivotal career moment.
She taught for seven years in Mead School District's alternative program, where she found a calling that, combined with a stint at a Seattle nonprofit arts organization, prepared her for her current role as chief visionary at Spark Central.
Today, Spark Central offers programs for all ages. In a given week, workshops may range from writing poetry, to a Girls Rock Lab, to coding for kids. It offers an artisan library collection, gallery space, and free access to technology and high-speed internet. All of it happens on a modest budget funded by individual donations and grants, and some key partnerships. At the core of Matson and of Spark Central is an eclectic combination of ideas fueled by playful creativity and learning with the intent of community betterment. "I've always had a strong sense of purpose," says Matson, "the sense that you don't just exist for you, but for contributing something or being part of something bigger."
forty years of thread
By Megan Carroll ('18), photo by Zack Berlat ('11)
Louise Kodis
role: Gardener, chef, textile artist
keys to inspiration: Leaves, flights of insects and birds, the glory of changing seasons.
spokane fave: "Gypsygarden," which she has tended at her house for the past 30 years, Gonzaga's Jundt Art Museum and Saranac Art Projects.
Step one: Think in profound colors.
This is one of seven parts in 30-year Spokane resident Louise Kodis' handwritten formula for success. Gonzaga's Jundt Art Museum Gallery displayed 40 years of her hanging fabric works this summer.
"I am inspired by my garden and its leaves, blossoms, trees, stems, wings and feathers," Kodis said.
"Louise Kodis: Hanging by a Thread for Forty Years" was part of the Jundt's "Close In" exhibition series, an initiative featuring work from regional artists.
Redrawn preliminary sketches, models and proposals for commissioned public art surrounded Kodis's colorful banners. Her art is featured in local and regional buildings, including Spokane International Airport, Spokane Convention Center and Boise Airport.
"The objective is to make something strong and durable," Kodis said.
After growing up in Harrington, Washington, and attending Washington State University, Kodis moved to Spokane and quickly became one of the area's most beloved artists. She says the city's landscape and seasons have influenced her art. Since 1986, she has won five awards for her work, including the Spokane Art Commission's 1999 Artist of the Year Award and the 2015 YWCA Woman of Achievement in Arts and Culture award.
Kodis also participated in Spokane's Allied Arts Organization and served on the board of statewide arts advocacy program Artist Trust. She was a founding member, board member, chair and contributor to "Inland Craft Warnings," an annual juried fine crafts exhibition and sale, for 29 years. At the Jundt, visitors received a taste of Kodis' three favorite "ingredients" in her work: color, texture and mystery.
"I want to share the joy of the outdoors and nature. I want people to look at my art … and imagine a feeling or a memory," Kodis said. "You don't particularly see insect wings or clouds. You don't particularly know what I was thinking about. I want it to be that way viewers can have their own experience."
roadtrip with sherman
By Rajah Bose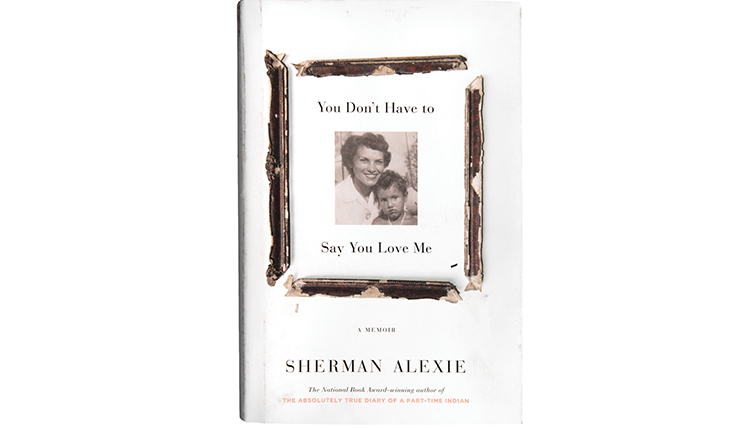 Sherman Alexie was the keynote speaker for the 2017 undergraduate commencement ceremony and recipient of an honorary Doctor of Letters degree from Gonzaga. It was his first official visit since he began writing poems here in 1985.
I had been bereaving Alexie's canceled book tour a few days after I'd picked up a copy of his memoir, "You Don't Have To Say You Love Me."
The book was published less than a year after his recovery from a brain tumor and less than two years after the death of his mother, about whom much of which the book is written. After its release, Alexie continued to struggle with the loss. "As I write in the memoir, I don't believe in ghosts, but I see them all the time. … I have been rebreaking my heart night after night," he said in a letter to fans as he canceled many of the tour dates.
I'd already read a few of the stories when I took a drive to Seattle from Spokane, the path Alexie has traveled hundreds of times – his escape route from the city of his birth to the city where he now lives. For my trip, I downloaded the audiobook and listened to Sherman read those stories to me, as if sitting in the passenger seat.
The book is a collection of 78 prose and 78 poetry pieces, one for each of the years of his mom Lillian's life. Chapters range from a few words to almost 100 pages, and while such a structure left a possibility for writerly excess, Alexie, who has proved himself in multiple genres, finds his home in this one-of-a-kind work. He proves that he is not The Finest Native Writer or the Greatest Writer of Color – he's simply one of the greatest living storytellers.
After nine novels and short story collections, nine books of poetry and two screenplays, Alexie's first memoir is about childhood on the reservation and wrestling with his connection to his culture, often illustrated through his loose grasp of the native Spokane language, of which his mother was one of the last fluent speakers.
His inability and frustration to understand this language is the same struggle that helps Alexie translate the native experience so well to those of us who didn't live it. It brings his experiences with abuse and alcoholism and rape and poverty so close that we feel as if we are a confidant and friend.
Alexie's stories and poems are gritty and tragic, and reading them will have you crying and laughing within the same page. When you hear them in the voice that wrote them, when you can hear Alexie smiling through the tears, it's as if he could look over at you and tell you it's gonna be alright.
Read more: Gonzaga professor Tod Marshall shares about WA129, the collection of poetry he published as WA Poet Laureate