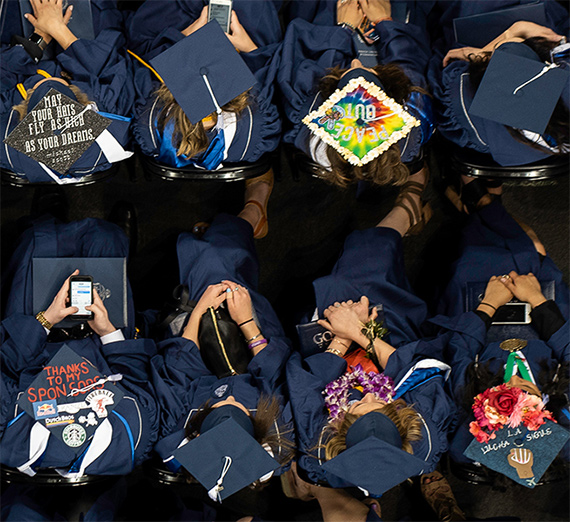 Undergraduate (Senior) Commencement 2020
Ceremony Live Web Stream Link - live on September 6
Text Captioning Stream - live on September 6
Rental Attire Pick-up and Return
Rental attire can be purchased before July 31 and will be shipped to your home.
Returns gown and hood to the Zag Shop no later than Sunday, September 6 by 5pm. Cap and tassel are keepsakes.
Commencement Mass
Meets Sunday Obligation; All Faiths Welcome
Saturday, September 5, 2020, 4:00 to 5:30pm (doors open at 3pm for open seating)
McCarthey Athletic Center
Undergraduate (Senior) Commencement Ceremony
Sunday, September 6, 2020, 9:30am to 12:30pm
Spokane Veterans Memorial Arena - parking is $7.00.
8:30am - Doors open for guests; go to center metal detector for disabled/limited mobility
Students enter South Doors and go to line-up area with name card
9:15am - Students move into position for the academic procession
Floor Seating Plan (audience facing stage) will be announced mid-August
9:30am - Ceremony begins
12:30pm - Social on Campus on Quad Lawn until 2:00pm
Commencement Honorees and Speaker will be announced soon
Main events for undergraduate students receiving a Bachelors degree sometime during 2020. Guest tickets are required. Students can order up to 8 guest tickets for the ceremony at the Spokane Veterans Memorial Arena, including accessible seats, from the section that will offer guests the best view of the student on stage. Arena parking is $7.00.
No balloons, large signs, or loud sound items are allowed in the ceremony facilities. Each facility will utilize metal detectors and bag checks. Clear bags are not required.
Disabled seating is managed by the professional crowd support staff on site at each facility. Arrive early, and drop off your limited-mobility person(s) near the entry doors before parking.