Animate Academic Excellence Across the Institution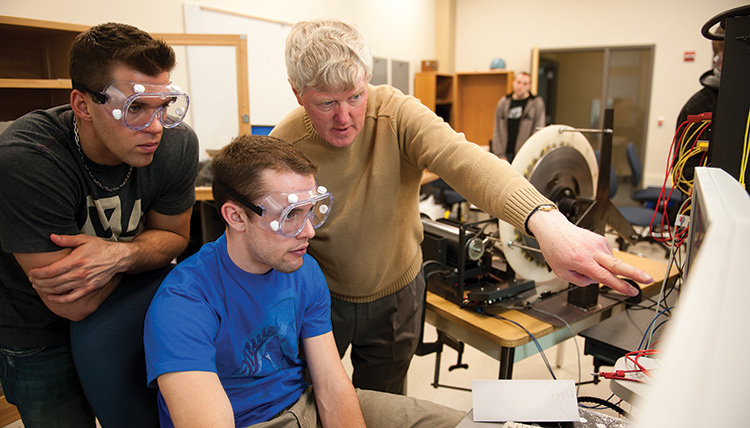 ---
Goal 1
Implement nationally recognized markers of academically excellent higher education institutions such as Phi Beta Kappa national honor society recognition and an average of four students per year receiving national baccalaureate or post-baccalaureate fellowships (e.g., Rhodes, Marshall, Fulbright scholarships or fellowships). (Target: 2025)
---
Goal 2
40% of all undergraduate students engage in student or student-faculty research during their time at Gonzaga. (Target: 2020)
---
Goal 3
Regularly secure $5,000,000 of annual external grant support. (Target: 2025)
---
Goal 4
All graduate programs ranked in the top 30% against an internally-defined, national set of peer programs. (Target: 2025)
---
Goal 5
30% of regular, full-time faculty make a significant impact in their field or on their profession through their scholarly, artistic, and professional activities in a given three-year period. (Target: 2020)
---
Goal 6
The four-year undergraduate graduation rate is reliably at or above 80%, and the six-year graduation rate is at or above 90%. (Target: 2020)
---
Goal 7
Minimally, 20% of full-time faculty and staff will comprise employees from racially, ethnically or culturally diverse populations (using federally-defined categories). (Target: 2025)
---
Goal 8
Provide opportunities for all students to engage with diverse cultures and global issues. This will be accomplished, in part, through further development of global engagement across the curriculum initiatives, at least 50% undergraduate participation in Study Abroad, and annually hosting four international scholars at the University. (Target: 2018).
---
Goal 9
A facility dedicated to the support of the Humanities faculty, the Centers for Public Humanities, Digital Humanities, and the Honors Program opened by 2018.
---
Goal 10
Open a Center for Integrated Sciences & Engineering by 2018.
---
Goal 11
Open the Myrtle Woldson Performing Arts Center by 2018.
---
Goal 12
Maintain a composite SAT score of 1260 and a GPA of 3.7 for first-year students.
---
Goal 13
Create additional opportunities for development and expansion of the partnership with the University of Washington.