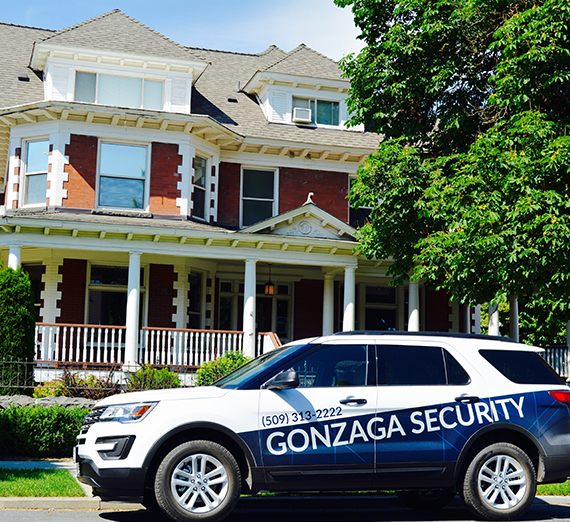 Gonzaga University is a community of over 8,500 people living, working, and studying on campus. We believe that the security of our campus is a responsibility shared by all members of the community. Security awareness and crime prevention protect individuals and the community as a whole. When we, as a community, are engaged with and contribute to security and emergency preparedness we create a safe campus for living and learning.

As a member of the Gonzaga community you have a special relationship with the University. The Jesuit tradition of education embraces the concept of "cura personalis," the care and concern for the dignity of the whole person. We invite you to join us in our mission to provide a safe and caring environment in which living, learning, and working can take place most productively.

Please always feel free to stop by and visit us at Huetter Mansion or contact us at 509-313-2222 if you have any questions.
Campus Security & Public Safety
Gonzaga University
Huetter Mansion
503 E. Sharp
Phone: 509-313-2222 (available 24/7, 365 days a year)
Fax: 509-313-4151
Office hours: 9am-4pm, M-F
Becky Wilkey
Director
(509) 313-3996
wilkey@gonzaga.edu
Scott Wittel
Associate Director
(509) 313-2223
wittel@gonzaga.edu
Joe Clark
Lead Communications Officer
(509) 313-2222
clarkj@gonzaga.edu
Taylor Jordan
Clery Compliance & Behavioral Intervention Team Coordinator
(509) 313-2224
jordant@gonzaga.edu
Phillip Tyler
Crime Prevention & Education Officer
(509) 313-4018
tyler@gonzaga.edu
Matt Gerdes
Parking Enforcement Officer
(509) 313-3975
gerdes@gonzaga.edu
Parking Permits/Office Coordinator
(509) 313-6147