Welcome to the latest issue of the Opportunity Northeast (ONE) newsletter.
ONE is a manifestation of Gonzaga's core values and a commitment to our neighborhood – this place we share.
We are grateful for your partnership and we welcome your input.
Please share your own stories and ideas
A Message for Thanksgiving
As we enter into this season of Thanksgiving, we want to express our gratitude to this community we call our home – Northeast Spokane. We are grateful to be a part of a community that – through creativity, adaptability, and a deep commitment to one another – is resilient, and continues to find ways to support and carry each other through our most challenging moments. This unprecedented year has revealed the strength and beauty of our community. We are thankful for you all and wish you peace and restoration in the days and weeks to come.
Featured Stories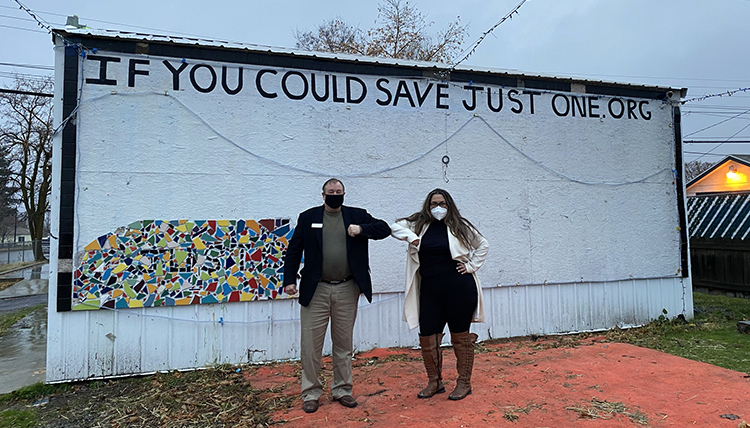 Pat Clelland of Sodexo (left) and Natalia Gutierrez, with If You Could Save Just One, share an elbow bump planning Thanksgiving meals for at-risk youth and their families.
Let Us Feast
If You Could Save Just One, Sodexo, and GU partner to provide ready-to-feast meals for youth at risk and their families…
Growing the Opportunity Northeast Team
Meet the new staff members joining GU's team to help advance campus and community partnerships, data analysis, and marketing and communications, thanks to our generous benefactors…
Northeast Businesses to Benefit From School of Business Interns
There are five paid internships awaiting talented business students in Northeast companies and non-profits coming up in spring semester 2021. See what's in store…
Of This Place
A contemporary look at historical aspects of Northeast Spokane, learning more about where we live, work, learn and serve…